Oct
15
Sat
2016 Jackson Pipe Night

@ The Country Squire
Oct 15 @ 6:00 pm – 9:00 pm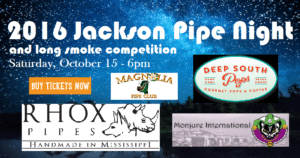 SATURDAY, OCTOBER 15TH, 2016, AT 6:00PM AT THE COUNTRY SQUIRE. Sponsored by RHOX Pipes, Monjure International, Deep South Pops, and the Magnolia Pipe Club!
For the second year in a row The Country Squire and The Magnolia Pipe Club are pleased to host a night of food, strong drink, music, fellowship, and competition!
Each participant will receive 3 grams of tobacco and two matches. Smokers will be given a false light and a full light. Whoever keeps their pipe lit the longest wins! Contestants will have access to unlimited pipe cleaners and may use a pipe and tamp of their choice. Contest pipe tobacco will be Mac Baren's Scottish Blend Mixture!
**TOP THREE WINNERS will win a NEW PIPE!** Winner Pipes are generously provided by RHOX Pipes of Mississippi, Monjure International, and The Country Squire!
Gourmet Popsicles provided by Deep South Pops! Food, Drink, and Door Prizes provided by The Magnolia Pipe Club and The Country Squire!
**SIGN UP TODAY! Priority seating selection will be determined by the order contestants purchase tickets!
Tickets are $25 each! Magnolia Pipe Club members get a special price of only $15!
**Tickets are NON-Refundable!
Oct
22
Sat
CSR Live from New Orleans

@ Cigar Factory
Oct 22 @ 4:00 pm – 6:00 pm
Oct
28
Sat
2017 Jackson Pipe Night!

@ The Country Squire
Oct 28 @ 6:00 pm – 9:00 pm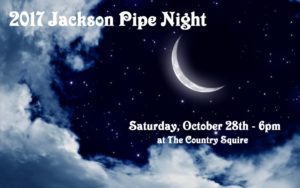 IT'S THAT TIME AGAIN!
For the fourth year in a row, the Magnolia Pipe Club and The Country Squire are hosting Jackson Pipe Night – featuring food and drink (including gourmet popsicles!), music, great prizes, and a slow-smoke competition!
Tickets are $25 (Official Pipe Club Members pay only $15!).  Available for purchase soon!
This year's Jackson Pipe Night is generously sponsored by Deep South Pops!